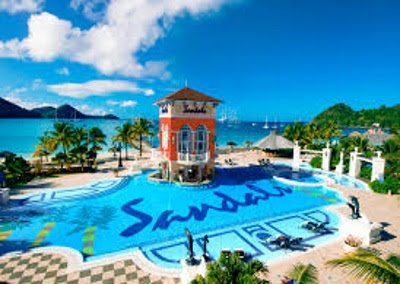 The Jamaica-based Sandals Resort International (SRI) says it is disappointed at the "stalled progress of the Beaches project in Barbados' but remains fully committed to working with all stakeholders for the future growth and development of the island.
In a statement, signed by SRI chairman, Gordon "Butch" Stewart, the company said that it had taken note of the recent statement made by Prime Minister Mia Mottley concerning the Beaches project in the Barbados Parliament.
"With respect to the current situation, we wish to clarify that we were not asking for anything more than what was promised. The Beaches project, at over US$ 420 million would have represented not only our largest single one-time development, but the largest long term hotel project in Barbados."
Stewart said that such a large project carries the concomitant long-term risks, and as such "our lenders who are the banks, as well as our board were seeking a level of stability by having parliamentary approval of the concessions that were already promised, which in the 21st century, is now the norm".
Prime Minister Mottley, delivering the 2019-20 national budget on Wednesday, told legislators that plans by SRI to bring the Beaches investment project to the island, could be either "stalled or pulled" after indicating that the company was seeking much more concessions than had been granted by the previous administration..
"We have reached a difficult moment in the negotiations that may result in the project being stalled or pulled," she said, adding that her administration had been working hard to make this project a reality, despite the fact that it was not in agreement with the "extent of the excessively generous concessions granted" by the former administration.
But she told legislators that Barbados's reputation as a place to do business would have been severely affected if she had decided on pulling the plug on projects negotiated by a former administration since the fundamental principles of government and of the separation of powers doctrine, is that there is always a government.
"The political administration may change, but obligations entered into by a government with arms length third parties, will continue to bind an incoming government."
She said it is that approach her new government followed when it came to office following the general elections last May but noted that "Sandals however wants and continues to want an even greater level of assurances and guarantees than they have already received".
She said these assurances and guarantees include the Barbados government would indemnify them if any future Parliament were ever to tax them or the industry for any goods or services, noting essentially to make total the range of protection the group will enjoy against any possibility of future taxation from a local government in the next 40 years.
"We are running a country – not a company," she said.
In his statesmen, Stewart said that SRI has seen the strengthening of the confidence levels in Barbados over the past year, which is without a doubt influenced by having a strong Prime Minister at the helm.
"We have the greatest respect for the Prime Minister and her government, and the efforts they have been making to restore the economy, and we are proud of the unprecedented contribution Sandals has been able to make in a very short period of time.
"However we understand that every government has its particular priorities and policies. We fully respect the government's position in this regard, and we would never want to put them in a compromising situation.
"Let me state clearly we have no regrets. Even though a huge amount of money has already been spent on beach work and on development plans, engineering and architecture and a large and able projects team comprising the very best personnel; the fact is we know that both sides worked very hard to try and make this project a reality."
Stewart said that SRI wanted to assure Prime Minister Mottley that Sandals "already views Barbados as an excellent investment partner.
"In just four short years we have built two magnificent resorts at over US$300 million, Sandals Barbados and Sandals Royal Barbados, and we are proud to say we did so using only local contractors. Both resorts are performing very well, and everyone can rest assured that we fully intend to stay in Barbados and continue to market and promote the island as one of the most amazing destinations to travel to."
He said since doing business here, SRI has found working with the Department of Tourism very enjoyable and productive, especially in the United Kindom and North American markets.
"We have also found working with local suppliers and farmers as comfortable and rewarding experiences. At present we have 1,100 of the most highly-trained and well paid employees in Barbados, as well as 552 of the most modern, sought-after suites in the Caribbean.
"We understand the disappointment all around because of the anticipated impact of Beaches, which would have moved our total employment on island to 3,000 persons, and when combined with the other two resorts, would have resulted in an annual economic injection into the economy of Barbados of over US$100 million each and every year."
Stewart said that this latest development, though disappointing, "in no way affects our excellent relationship and we will continue to work toward doing more and more for the island because we remain confident that Barbados is in good hands.
"Moreover we know that the Prime Minister, as well as all other stakeholders clearly understand our commitment and appreciation for the island, its history and its people. Sandals Resorts is still very much a part of Team Barbados," he added.